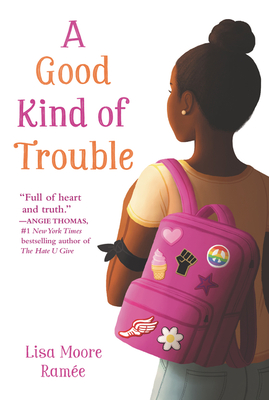 Lisa Moore Ramée's debut middle grade novel, A Good Kind of Trouble, came out in 2019 to rave reviews. With her debut, KidLitCraft analyzed techniques Ramée used to make her characters come to life and also how she crafted an engaging story while still tackling a tough subject. In July of 2020, Ramée published her sophomore novel: Something to Say. We are excited to find out the latest from Ramée about her creative life.
The biggest change since then is I published another book! Something to Say came out this past July. It was very odd launching a new book during a pandemic—I don't recommend it. Also, A Good Kind of Trouble released in paperback and I didn't realize how many people would newly discover it. I also changed my "day job" in February, and I love it but it takes up a LOT more of my time than my previous position so I have much less time to write. Internally, I feel more sure of my voice and my writing style than I did a year ago. Before Covid-19, I was starting to do lots of school visits and I really miss getting to meet readers.
2. Your last interview was focused on characters. How did Janae and her friends and family in Something to Say come about?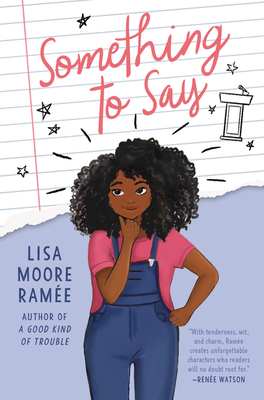 I heard the author Rebecca Stead describe herself as a "collector" and I love that because that describes me as well. I see nuggets of things on the news or in life that I tuck away and save for future stories. With Jenae, I combined my fascination with the desire to control things with your brain, the feeling of being invisible and the fear of public speaking. Unrelated things that came together within Jenae. I had learned a lot about creating stakes in a story (something I've struggled with in the past) and I knew something needed to get in her way. A girl who doesn't want friends of course is going to need someone determined to be her friend. Add that she doesn't want to speak in public and…well, I knew where the story needed to go. Regarding her family that was more complicated. In A Good Kind of Trouble, I had a more typical loving mom, and Jenae's mom is tougher. Some might even think too tough. But a mother's love can look very different and a Black momma is something I will always celebrate in all its many forms, as well as I can. Hopefully it's clear to readers that Jenae's mom loves her just as much as Shayla's mom loves Shayla. Gee is based loosely on my own grandfather who did love Westerns—but not necessarily John Wayne. And finally, and maybe most important is Jenae's brother who gave me the opportunity to look a little bit at the issue of young (oftentimes Black) people thinking that a sports career is their only hope. Their only future. But what happens after an injury? So all of that came to play when developing characters.
3. In Something to Say, your characters deal with a lot of medical challenges–leukemia, sports injury, stroke. How did these elements become a part of the story, and how did you go about researching these issues?
I never really thought of it that way, but you're right. There are several health issues! The childhood leukemia came from two places: my cousin Bobby who died of leukemia when he was only 12 (I was 9) and then a classmate of my son's who had survived leukemia. I was fascinated with the mother/child relationship after a child survives something that is potentially deadly. A co-workers husband is a pediatric oncologist and I asked him a lot of questions. Strokes are horribly fascinating in that people can have many of them without knowing that's what's happening. That is so scary to me. I also often see reports of elderly people wandering away from home and although those cases are typically issues with dementia and/or Alzheimer's, I knew it would be such a scary thing to have to deal with for a family. Not knowing where a loved one had gone and whether they were okay. My mom has had mini-strokes and my husband's parents both had more severe strokes. I did most of my research for that through my friend, Dr. Pitts, and Google. And the basketball injury I touched on earlier, but the reason it was specifically basketball is my husband played, and now coaches, and that has brought me into contact with players suffering with those types of injuries. I talked to two of them for research.
4. In Something to Say, your protagonist and her new friend are paired up for a class debate about the proposed name change for their school. The primary question being debated is whether you can separate someone's greatness from their "bad parts." What inspired you to explore the topic?
Well we've certainly seen quite a few cases of this debate play out, haven't we? So, as often happens with me and my work, there are things in the news that inspire me. Something I have had a hard time understanding is fans' desire to keep a sports team name after the name is widely viewed as being problematic. The notion that our sense of nostalgia is more important than offending living people is sort of nuts to me. Of course it gets more complicated when we start talking about "heroes" or a beloved celebrity. There were several high profile cases that I followed and saw myself moving from denial to having to see the truth. Because what do you do? If you've loved their movies/music/comedy act? I realized that when I put myself in the shoes of the victim, or worse, put one of my children in that role, it was clear that I couldn't support someone who had done horrible things. And that means no longer celebrating their "art." But I did want to offer up both sides. With an issue of a debate being at the heart of this story, it's of course important to try to truly explore the issue, and I hope I did that. Although I should add that as a Black person, I have no trouble canceling someone who is racist.
5. And finally, what are you working on now?
I'm working on two projects. One is top-secret, but it's very fun because I'm writing a novel with three other authors, and then I have my map book. Everyone who knows me has heard about it. It's an idea I've had for years. A book about a boy who creates a world every time he draws a map. I'm impatiently waiting for my edit letter so I can get back to work on it. It's fantasy, and features a male main character—which is very fun—and it has a dragon, and a magic talisman, and sibling rivalry, and mushroom trampolines. Mapmaker will be published 2022. I cannot wait!
Kristi Wright (co-editor) writes picture books and  middle grade novels. Her goal as a writer is to give children a sense of wonder, a hopefulness about humanity, and a belief in their future. She is represented by Kurestin Armada at Root Literary. She is an active volunteer for SCBWI and a 12 X 12 member. Find her at www.kristiwrightauthor.com and on Twitter @KristiWrite.